How much life insurance can a 35 year old get?
As a rule of thumb, you can get up to 25 times your annual income.  The multiplier method is the quickest way to understand how much you can get, and based on your specific financial situation, you can move that total up or down to fit your exact need.
However, just because you can get 25 times your income, doesn't mean you always need that much.
Take a look at the statistics below and review the chart showing the various options you have based on the national income averages of your peers. We don't represent all of the life insurance companies, but we represent a lot, so the accuracy of these quotes is very close.  In fact, we ran these quotes at what life insurance companies consider as "standard" or good health.  If you are in great health (preferred), your final quote from the insurance company will be automatically adjusted to save you money.
Let's first look at some 2022 statistics based on your peers in the same age group.
The average income for a 35-year-old is $62,000.
The average mortgage balance is $255,000.
The average non-mortgage debt (credit cards, cars, etc) is $28,000.
If you fall somewhere in the average statistics listed above, then figuring out how much life insurance can be is very simple.
The chart below shows different coverage amounts you may qualify for based on the multiplier method that covers the statistics listed above so you can see exactly what to expect including coverage benefits and pricing.
Life Insurance for 35-Year Old Earning $62,000 per Year
Life insurance amounts for a 35-year-old female earning the national average of $62,000 / year, owning a home, and having some additional non-mortgage debt.
Pays off non-mortgage debt

Pays you Disability Income for 2 years

10 Years of Income Replacement
Pro Tip: If you need to lower your cost, you can reduce the term length (30 down to 20 or 10, etc), reduce the coverage amount, or elect to not protect your income stream (60% of your annual income) to cover your mortgage, utilities, and groceries should you become disabled.  The choice is completely yours and when you run a quote with Quote-Bot, you can click a button and see your options, it's very simple.
Living Benefits: Life insurance with disability income benefits and why it's important
This is the part where we wish with all of our heart and soul that insurance agents would do a better job at explaining to people.  Old life insurance claims are only paid upon death, new life insurance claims allow you to use the death benefit while you're alive for numerous reasons.  We believe disability income is absolutely the MOST important living benefit that you should A) know about and B) have the opportunity to make the choice to accept or decline this bolt-on benefit to your life insurance coverage.
Quote-bot will always provide you the choice to customize your coverage to fit exactly what you need, but not at the expense of you walking away uninformed.
The truth is many life insurance agents do not completely understand how additional benefits work within a life insurance policy which often results in a failure to educate many consumers.  As you can see from the example we listed above, our rates include the ability to protect 60% of your income in the event of a disability.  Below is a quick story to help understand how to put this in perspective.
For this example, we will use Lucy, a 35-year-old married female who decided with her husband they aren't ready for kids just yet. Lucy is earning $62,000 per year.
Jessica was interviewing for a few jobs and the only difference between the roles is her take-home pay and the associated financial perks.
| | | | |
| --- | --- | --- | --- |
| | | Upon death,her family beneficiary receives $1,000,000 tax free. | Upon disability, Jessica continues to earn $36,000 per year for 2 years to help cover her household expenses. |
| | | | |
| | | | |
| | | | |
This chart shows how choosing the fundamental benefits of life and disability insurance can have such an impact on a family's finances. It also shows the price difference between choosing a life insurance only benefit without disability income (cheaper option).
Pro Tip:  If this type of coverage is offered through an employer, it's only good while you're employed with that specific employer, which is basically the equivalent to renting your benefits.  Just as illustrated above, you can own your benefits with Quote-Bot for less than 3% of your annual income.
Conclusion
Term is the cheapest type of life insurance, which means you'll have more disposable income to invest in things like real estate and your retirement accounts.
4% or less of your annual income should be the target for how much you spend on life insurance.
The average income for a 35-year-old is $62k.  If that describes you, then we suggest using the multiplier method in determining how much coverage you need.  For this scenario, we suggest multiplying your annual income by 20.
Our suggestion for 35-year-olds earning around $62k per year is a $1,000,000, 30-year term policy that includes a benefit that also pays you about 60% of your annual income in the event you are disabled while the policy is in force.  This is designed to protect your ability to continue paying your mortgage, utilities, and groceries while you're unable to work.
Our suggested option above is less than 3% of your annual income.
You can always save money in 3 ways.  First, you can lower your coverage amount.  Second, you can reduce the term length from 30 years to a shorter duration.  Third, you can remove the benefit that pays you an income to cover your mortgage, utilities, and groceries should you become disabled.
How To: 35-Year-Old Applying for $1,000,000 of Life Insurance with Disability Income Rider
Below are screenshots that show step-by-step how you select your coverage using Quote-bot to begin your online application and get an instant decision in 10 minutes without ever having to speak to an agent (unless you want or need to).
Step 1: Run a quote with Quote-Bot and enter all your basic information including your name, resident state, birthday, email, tobacco use status, and gender, using the screen below.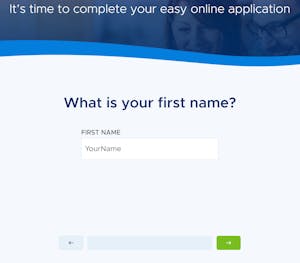 Step 2: Indicate your health status by choosing good or great.  In our examples here, we run all of our quotes as good which is considered standard underwriting for life insurance companies.  If you apply at good and you are approved as great, then your rates will automatically be adjusted so you save money.  So, we always suggest choosing good health as a starting point.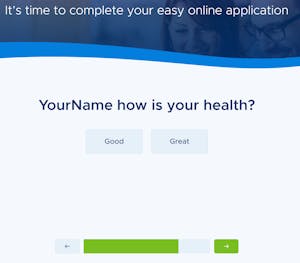 Step 3: Choose your coverage amount.  In this instance, $1,000,000 of coverage is 20x the average income of $62,000 for a 30-year-old.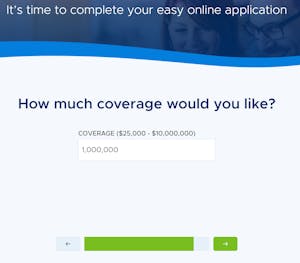 Step 4: Review your base coverage and add additional benefits, in this example, you'll be adding the monthly disability income rider circled in green.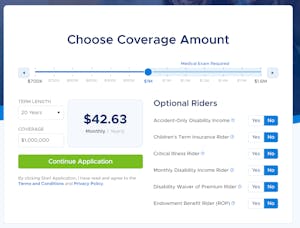 Step 5: Quoting the disability income rider correctly requires answering a few yes or no questions and entering in some amounts based on your income.  In this example below you'll see I entered $3,000 as the benefit amount because that is roughly 60% of the monthly salary for a $62,000 per year employee ($62,000 / 12 = $5166 and $5166 * 60% = roughly $3,000), which is the maximum amount of disability coverage available in the instant decision process.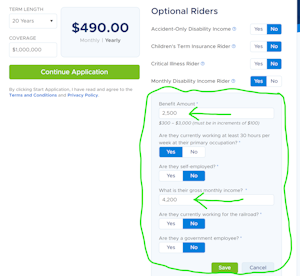 Step 6: Confirm your quote is correct by checking you have everything selected such as coverage amount in the slide bar ($1,000,000), term length (20 or 30), and monthly disability income (checked yes), and click "Continue Application."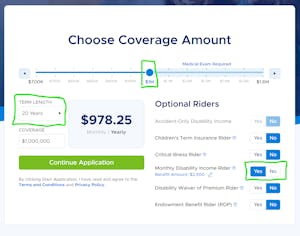 Why Trust Quote-Bot: 
We give you information that everyone else online isn't willing to give you unless you provide your name, email, and phone number.  We believe in the complete opposite!  We believe you should have access to everything you need to complete your research on your own terms while always having easy access to ask questions at a moment's notice using our chat or calling our office.  And, we aren't a national call center, we're a family-owned business located in Colorado Springs, CO!
Photo by Helena Lopes on Unsplash