What is the average cost of life insurance in Colorado?
It's not so much the state that dictates the rates of life insurance, but more the traits of the consumer. Colorado has a large abundance of active residents, and active usually means healthy with some exceptions. We help individuals, families, and business owners with all levels and types of health conditions get life insurance.
Below is a snapshot of 20-year term pricing for non-tobacco users in great health living in Colorado.
Why is Life Insurance Important in Colorado Springs?
As mentioned above, Colorado Springs is a great place to live, especially if you enjoy outdoor activities like hiking, skiing, and mountain biking. However, these activities also come with risks, and it's important to have adequate life insurance coverage to protect your loved ones in case something unexpected were to happen.
Additionally, due to the level of physical activity in and around Colorado Springs, residents may be able to qualify for the best and most affordable premiums on their life insurance policies. Insurance companies look at factors such as age, health condition, income and lifestyle when determining premiums, so if you're in good health, you will likely get the best rate for your policy.
Why You Need Life Insurance and How to Choose the Right Insurance Product
Life insurance is a fundamental part of any financial plan, providing a safety net for your loved ones in case something unexpected happens to you.
It's a way to ensure that your family will be taken care of financially, even if you're no longer around to provide for them.
Below we'll discuss the following.
Basics of life insurance.
Types of policies available.
How to choose the right coverage for your needs.
Understanding Life Insurance Basics
Life insurance is used for various things, but most commonly to provide your loved ones financial security in the event of your death. You can read more about it in our article "What Is Life Insurance?", but here is a quick explanation.
To explain it simply, you pay premiums, and in return, the insurance company provides a death benefit to your beneficiaries if you die while the policy is in force. Common insurance needs based on national average incomes are anywhere from $500,000 to $900,000 and cost less than 4% of your annual income. Spending 4% or less of your annual income for both life insurance and disability income protection is a good rule of thumb and helps protect against becoming "insurance poor"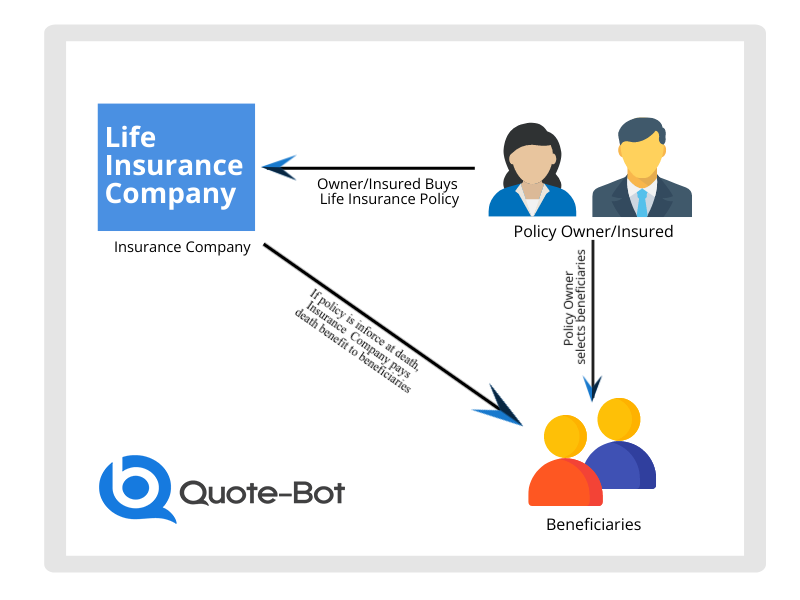 How Life insurance Benefits are Used
The death benefit can be used to cover expenses like funeral costs, outstanding debts, and costs of living such as mortgage, utilities, and groceries for your loved ones. Another major use for life insurance is for business owners that need buy-sell agreements or keyman policies to support their business succession plans. Below is a snapshot of how business owners use life insurance.
Types of Life Insurance
There are two main types of life insurance:
Term life insurance:
Term life insurance provides coverage for a predetermined, temporary period of time, typically 10, 20, or 30 years. If you die during the term of the policy, your beneficiaries receive the death benefit. If you outlive the policy, the coverage expires, and you no longer have life insurance.
We most commonly see term life insurance used by young adults and families and business owners with buy-sell and keyman protection needs.
Permanent life insurance:
Permanent life insurance, on the other hand, provides protection for your entire life. There are two main types of permanent life insurance, whole life insurance and universal life insurance.
Whole life insurance provides a death benefit and a cash value component that grows over time.
Universal life insurance is similar to whole life insurance but has additional flexibility in premium payments and death benefit amounts.
Both permanent life insurance options may offer accessibility for living benefits that are commonly used to help solve long-term care issues or expenses stemming from health insurance claims due to chronic and critical illnesses.
We most commonly see permanent life insurance used when young adults are converting their term insurance as their careers advance and incomes grow, and business owners that have learned how to leverage the tax advantages of permanent life insurance. Two areas Quote-bot has a high level of experience.
Choosing the Right Life Insurance Policy
When choosing a life insurance policy, it's important to consider your individual needs and circumstances. Here are some considerations before getting your free quotes.
Your Age and Health: A mentor told me years ago, you're as young and likely as healthy as you're ever going to be, today. The fact is, healthier people qualify for lower premiums, so it's a good idea to purchase coverage as early as possible and lock in your insurability. If you have any pre-existing health conditions, be sure to disclose them when applying for coverage as it can impact the types of insurance plans you can qualify for.
Your Lifestyle: If you're active and healthy, you may qualify for lower premiums on your life insurance policy. However, if you engage in high-risk activities like some of us here in the Colorado Springs area, you'll need to make sure and disclose those details ahead of submitting an application. Quote-Bot can help make that process extremely smooth through our simple pre-qualification process.
Your Financials: Financials determine everything. A good rule of thumb is to purchase a policy that provides 10-12 times your annual income in death benefit and costs 4% or less (we recommend 1% – 2% using our affordability model) of your annual income. Most people overestimate the cost of life insurance and aren't aware that many can get both life insurance and disability income protection for 4% or less of their annual income.
Your Long-Term Goals: If you're young, it's hard to grasp how you may use life insurance when you're older, however, it's one of the most widely used tools in wealth management strategies, clearly there is something the ultra-wealthy have figured out, and you can too. If you aren't sure, term life is a great place to start, you can get an affordable policy now that will give you the ability to leverage permanent life insurance in the future without the risk of being declined.
What Does This Look Like for Someone Earning an Average Income in Colorado Springs, CO?
According to the U.S. Census Bureau, the median income in Colorado Springs from 2017 – 2021 is $71,957. You can read more in our article discussing how much life insurance you need, but here are 2 quick ways to consider how to budget life insurance into your lifestyle plan:
Multiple of Income. If you are earning the median income you can simply multiply your income x 10 to get a good starting point for coverage. If you're 35 yr old non-tobacco user, in great health living in Colorado Springs, CO $700,000 of 10 year term insurance costs $17 – $29 per month. For perspective, this 0.28% – 0.48% of your income. Far less than 1% of your annual income!
Affordability. Taking a look at 10 year term insurance again: If you're a 35 yr old non-tobacco user, in great health, earning the median income in Colorado Springs, CO and you want to stay between 1% – 2% of your income for life insurance premium, you can buy $3,500,000 – $7,500,000 in life insurance! At age 35, you can typically only qualify for 20-30x your income in coverage ($1,439,140 – $2,158,710), and according to what we just showed, you're still well below the 1%-2% affordability test. This means that at age 35, you can afford to buy the coverage you want, and even consider buying a longer duration of coverage, while still staying within the affordability zone, OR, you can add valuable riders to enhance your coverage!
The 2022 Life Insurance Barometer study suggests that most people overestimate the cost of life insurance by but to 300%!
As you can see, life insurance can be VERY affordable and provides much-needed support for your loved one's during a time of need. Don't delay, you can have the coverage you want in minutes. Our process takes less than 10 minutes for most and provides an instant decision! And, if you still need help, we're a chat or call away!